QM-pack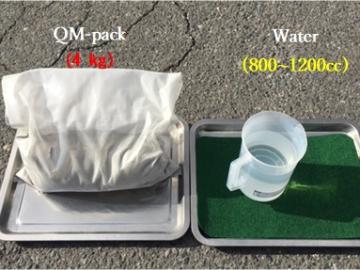 《 Overview 》
QM-pack is a non-shrinkage polymer cement type repair material for the purpose of repairing concrete
By mixing with water in the bag, repair work can be done easily
Package is small (4 kg) suitable for small scale repair.
This product does not require weighing and any special machine.
《 Features 》
●Depending on the amount of water (800 to 1200 cc), it can be changed from solid to liquid and various repair is possible。
※The amount of water added is 800 cc, creamy, it becomes liquid at 1200
●Curing is fast, it can be a short period of time in traffic open.
※About 30 minutes in the summer and 60 minutes in the winter
(It varies depending on temperature, water temperature, weather etc.)
●Work is easy because we do not use machines for construction.
●QM-pack is a small package suitable for small scale repair.
《Applications》
Concrete road, sidewalk, bridge, parking lot, L-shaped side groove, walkway road block, station premises, inland adjustment, step correction, defect repair, crack repair, other urgent repair work of concrete is suitable for all
《VIDEO》
《Exp.》